In Memory
Charles P Dowling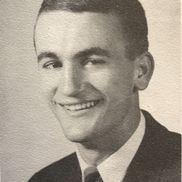 1942-2017
Charles Patrick Dowling Jr., Age 74, of Orem UT, passed away on April 9th, 2017 after a 3 year battle with mesothelioma. He was born on September 27th 1942, in Salt Lake City, to Charles Patrick and Hilma King Dowling, and grew up in Provo. Chuck later moved to California, where he married Diana Larson on July 25th 1970 in the Los Angeles LDS Temple.
Chuck served in the Southern Far East Mission from December 1962 to June of 1965. He also served in the National Guard from 1959 to 1968, and then graduated from BYU in 1969. For 38 years, Chuck was worked for the Los Angeles Public Administrators Office, becoming a manager. He lived in San Dimas, where he raised his four sons, and was an active member of the LDS church throughout his life.
Chuck is survived by his wife, Diana; his 4 sons: John, Christopher, Kevin, and Douglas; his 5 grandchildren: Rylan, Braden, Elise, Christian, and Nicholas; and his sister, DeAnn Peck.
Viewings will be held at Sundberg-Olpin Mortuary, 495 S. State St. in Orem on Friday April 21st at 7pm, and on Saturday April 22nd at the LDS ward house located at 50 S. 750 W., in Orem, at 9am. Funeral services will follow at 10:30am, with the interment at the East Lawn Cemetery, 4800 N 650 E, Provo at 12:30pm. We are grateful for all who have known and loved Chuck, and thank you for your support.