In Memory
Paul M Jackson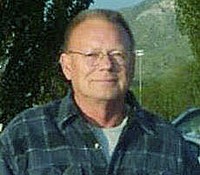 Paul Martin Jackson
1942 ~ 2014
Paul M. Jackson, 72, was born on January 4, 1942 to Martin Jackson and Norma Ora Paulson. He was the oldest of 6 children. He passed away on October 30, 2014 surrounded by his wife and children. Paul married Nancy Kaye Carter on February 11, 1960. They were later sealed for time and all eternity in the Salt Lake Temple.
Paul retired from the Grounds Department at Brigham Young University in 2004 after more than 40 years of service. He loved his family, genealogy, hunting, classic cars and especially horses. He was a long time member of the Utah State Western Riding Club Association. He enjoyed the time with the Sheriff's Posse and the many search and rescue operations they participated in.
He is survived by his wife of 54 years Nancy, 3 children, Charlotte Hart, Bill (Cheri) Jackson, Vicki (Kameron) Frampton, his 8 grandchildren, 3 step grandchildren, and 11 great grandchildren. Also his two brothers Howard, and Oran. He was preceded in death by his parents, two sisters, Mary Zimmerman and Janet Leroy, one brother David and two nephews.
Funeral services will be held at 11:00 a.m., Tuesday, November 4, 2014 at Provo Utah Stake Center, 1315 East 900 South, Provo, Utah. Friends may call at the Berg Mortuary of Provo, 185 East Center Street, Monday, November 3, from 6-8:00 p.m. and at the church Tuesday from 9:30-10:45 a.m. prior to services. Interment, Provo City Cemetery.
Condolences may be sent online at www.bergmortuary.com.