In Memory
Linda James (Johnson)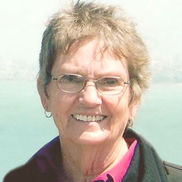 1941–2017
Linda James Johnson passed away in Provo, Utah on Monday, March 13, 2017 at the age of 75 after a short illness. Linda was surrounded by her husband, son and grandchildren at the time of her passing. She was preceded in death by her parents, William Frank James and Mildred (Ekins) James and son, Carl Kay Johnson. Linda was survived by her husband, Ralph Paul Johnson (78) of 57 years. She was also survived by her son William Scott Johnson of Pleasant Grove, UT and her 6 grandchildren and 6 great-grandchildren.
Linda was born in Provo, Utah December 15, 1941 where she grew up and graduated from Provo High School in 1960. She married her sweetheart of 3 years on July 15, 1960 in Springville, Utah. She had her first child, William Scott Johnson on August 24, 1962 and Carl Kay Johnson followed on September 12, 1964. Linda was the perfect boy mom, because she loved fire, shooting and fishing. She was an accomplished horseman; getting her first horse Fey Tez from her Uncle Reed and Aunt Daisy when she was around 16 years of age. Over the years she rode and competed in many horse shows and racing events. Linda and Paul loved adventure. Many weekends were spent with their two boys camping and motorcycle riding in the mountains and deserts of the Western United States.
Linda loved her family! She was very close with her mother Mildred and sister Geraldine. They spent lots of time fishing on Deer Creek Reservoir and sipping Pepsi's together. The sisters loved to be in their mother's beauty parlor visiting with the ladies. Linda played a big part in helping to raise three generations of her Johnson family. Baths in the kitchen sink, swings in the tire swing, salt and vinegar chips on the TV tray and playing in the irrigation water in the pasture out back. Linda was loved and admired by many neighbors, friends and family. She will be dearly missed.
Funeral services will be held at 1:00 p.m., Saturday, March 18, 2017 at the Sunset 13th Ward Chapel, 1090 West 1020 South, Provo, Utah 84601. A viewing will be held prior to the services from 10:30 a.m.-12:30 p.m. at the chapel. Graveside service will take place same day following the service at the Spanish Fork City Cemetery, 400 East 420 South, Spanish Fork, Utah 84660. Condolences may be expressed at www.bergmortuary.com.