In Memory
Richard L. Mangum VIEW PROFILE
Joyce Mangum called me late in the night to tell me that Richard died last night (July 14, 2017) at 11:10 p.m. in Fremont, Nebraska. Joyce said that Dick want us all to know how much he love PHS 1960. Bob Valentine
Richard Mangum Sr.
Nov. 10, 1941 – July 13, 2017
FREMONT — Richard L. Mangum Sr., 75, of Fremont died Thursday, July 13, 2017, at his home. Richard was born Nov. 10, 1941, in Payson, Utah, to Lothair and Marie (Carter) Mangum.
He grew up in St. George, Utah, from 1941 to 1958. He graduated from Provo High School and attended BYU and received his bachelor's degree in Spanish and a Business minor. Richard married Joyce Riggs on May 22, 1984, in Fort Collins, Colorado. He did a mission in Argentina for two and half years and returned to college at BYU. Upon graduation he worked for ZCMI in Salt Lake City, Utah, 15 years as general merchandise manager for Kmart, Richman Gordman from 1984 to 1989, also at KHUB Radio and for FTI from 1994 to 2003 as general manager. He was an Eagle Scout and belonged to the HAMM Radio Association and the Church of Jesus Christ of Latter-Day Saints. He also loved doing genealogy.
He is survived by his wife, Joyce; sons, David (Noemi) Mangum of Broomfield, Colorado, Rich Mangum Jr., Jeffrey Mangum and Christopher Beerbohm (Kathy Miller), all of Fremont; daughters, Vanessa (J.C.) Hughes and Susie Mangum of Fremont, Angela Mangum-Schreck of Gretna and Lesley Strom of Omaha; brother, Marty (Laura) Mangum of St. George; sisters, Barbara Stewart and Kathy (Sam) Earle, all of Las Vegas; 12 grandchildren; and two great-grandchildren.
He was preceded in death by his parents.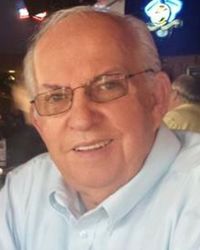 Click here to see Richard L.'s last Profile entry.