In Memory
Connie Borget (Wilberg) VIEW PROFILE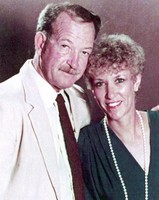 Connie Rae Borget Wilberg 1942 ~ 2011
Connie Rae Wilburg passed away peacefully Sunday, October 30th after a long illness.
Connie was born May 24, 1942 in Provo, Utah to Raymond and Ione Borget. She attended Provo City schools and graduated from Provo High in 1960. She married Dennis Wilberg on October 29, 1960.
Connie grew up in Provo. After marriage she lived in Climax, Colorado, Buena Vista, Colorado, Orem and finally settled in Long Beach, California. When Dennis retired in 1993 they returned to Utah and made their home in Lehi. She was able to spend the last five years of her mother's life with her.
Connie was a wonderful wife, mother, daughter, sister, aunt and friend. She had a bright sense of humor and loved to make others laugh. She made friends wherever she went. Connie was always busy serving her family and friends. She had true charity for others. There are many who bless her name for the good she has been able to do for them.
Connie was very creative and had many talents. She loved to decorate her home, plant flowers, and send thank you and birthday cards. She was an excellent housekeeper, organizer and cook. She kept many scrapbooks filled with the story of her family. She was a member of the Daughters of the Pioneers, did genealogy and wrote the life story of her great grandmother Jane John.
Connie's life was not easy. She had many trials and things to overcome. Her health was not good and she suffered from many ailments. The last 3 years she spent at Art City Care Center where she was greatly loved. Some of the aids called her their favorite patient. She had them laughing and wanting to help her. She was dearly loved and will be remembered and missed by family and friends.
Connie was an LDS Church member in the Lehi 30th ward and served in many callings. She especially enjoyed working in the Young Women's organization in Lehi.
She is survived by her son Lance (Tammy) of Lehi, Sister Paula (Tom) Lamoreaux of Provo, brother David (Darlene) Borget of Orem. She is preceded in death by her husband Dennis, her son Jason, her parents and sister Elaine.
A viewing will be held Saturday, November 5, 2011 from 10 to 10:45 a.m. at the church. A memorial service will be held in her honor on Saturday, the 5th at 11:00 a.m. at the Lehi 30th Ward at 3180 N 300 W in Lehi.
The family would like to thank the staff at Art City Care Center for their care of Connie.
Connie requested no flowers. She said to give the flowers to the living and the money to the poor.
Click here to see Connie's last Profile entry.