In Memory
Richard Anderson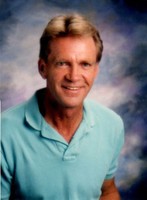 1942 — 2017
Richard Brian Anderson, age 75, beloved father, grandfather, great-grandfather, brother, uncle and teacher passed away on Monday, November 27, 2017 from complications of a stroke. Richard was born to Golden and Charlet Anderson in Green River, Wyoming on February 10, 1942. He lived in Green River until he was 2 years old when his family moved to Provo, Utah where he was raised and graduated from Provo High School and Brigham Young University.
Richard was married to Carol Anne Day from 1963 to 1985. They had two daughters, Cheryl Hollinger and Jan Anderson, and remained life-long friends. He was married to Laraine Sharpton from 1996 to 2013.
Richard moved to Salt Lake City after graduating from BYU where for over 30 years he taught English at both Skyline and Granger High School. Ten of the 30 years were spent teaching in the Home Instruction Program. He loved and was so proud of his chosen profession, and felt blessed to be able to enrich the lives of his students. During the years he was teaching he also obtained a Master's Degree in Literature from the University of Utah.
Richard loved to write poetry, histories, and short-stories. His writings were beautiful, soulful, honest, and inspiring. He had a few of his poems published for which he was very honored. He was a veracious reader, which is evident in his library of books.
Fishing at Mirror Lake, hiking in his treasured red rocks of Southern Utah and the Wasatch Mountains, and traveling with his family were some of his greatest joys. He and his family traveled to Europe several years over summer breaks, primarily to England where they walked in the shadows of the great poets, playwrights and authors.
Richard is survived by his beloved daughters, Cheryl Hollinger and Jan Anderson; his grandchildren, Kylee Edwards (Spencer) and Mason Hollinger; his great-granddaughter, Jordyn Edwards, his sisters, Annette Anderson Ashton (Gary) and Charlene Anderson Rynders (Greg); brother, Tom Anderson (Lynn); and sister-in-law, Lynn Anderson (Gary). He was also loved by his many nieces, nephews and cousins. He was preceded in death by his brother, Gary; and his parents, Golden and Charlet Anderson.
A celebration of life will be held on Saturday, December 2, 2017, at Jenkins-Soffe Funeral Chapel, 4760 S. State Street in Murray, Utah. Visitation with family will begin at 12:00 p.m. followed by a celebration of his life at 1:00 p.m. Online condolences may be shared at www.jenkins-soffe.com
Richard attended our 50th Reunion at the Provo Library and read two of his poems at our 55th Reunion at Riverside. We will miss him very much. He was a class act!