In Memory
Richard Roy Hoover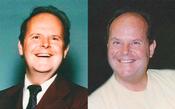 Dear Classmates:
La Donna Houtz Rawlings sent this to me today, August 8, 2013. I did not know that Richard had passed away. He was a good friend to all of us. I visited him in his home about three years ago. Please add your comments about Richard. His wife is Sharn Huff. They lived at 4926 Pinewood Drive, Taylorsville, UT 84123.
Bob Valentine
Highland, UT 84003
801-494-7045 - ryv@me.com
"I haven't noticed that anyone posted anything about Richard Hoover's death. In the BYU magazine it mentioned Richard Roy Hoover as having passed away, so I looked it up in the obits. The info is so sketchy, but the comments on the side were written to Sharn, and I see on your info that that is his wife. The obit was listed in SL Tribune on Sept. 2, 2012. He died Aug 27, 2012.
In classes I took with Richard we usually sat in alphabetical order and Hoover and Houtz names usually put us together. He always made me laugh. Years later I went to his mission farewell. I remember he went to Central German Mission, the mission where I had gone.
Maybe this was reported somewhere, but if so, I missed it.
I still enjoy looking up people in our class. Thanks for getting this started."
LaDonna Houtz Rawlings
August 8, 2013