In Memory
Naoma Sorenson (Milner)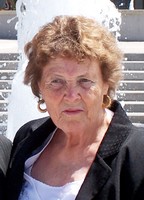 Naoma Sorensen Milner
1942 ~ 2013
Naoma Sorensen Milner of Provo, passed away on Sunday, March, 3 at Utah Valley Regional Medical Center surrounded by her family members. She was born in Provo on January 18, 1942 to John Raymond Sorensen and Sallie Palmer Sorensen. She went to school in Provo at BY Academy and Provo High School.
She married her eternal sweetheart Ernest Burdette Milner on December 28, 1959 also in Provo. They were later sealed in the Provo LDS temple on July 28, 2008.
In 1970 the family moved to Moab where she was an avid supporter to each of her children's activities including scouting activities and sporting events where she was their biggest cheerleader. Also involved in her church with the Relief Society as a visiting teacher.
Naoma is survived by Ernie her husband of 53 years and was the proud mother to four children, Mark, (Sheryl) of Provo, Tamie (TJ) and (Jason) Jeppson of South Jordan, Mike, (Rosemary) of Boise, Idaho and Ernest Jr. of Moab. Also surviving are 12 grandchildren and 3 step grandchildren, 7 great grandchildren who were the light of her life. She is also survived by her brothers Doug, (Janice) Sorensen of Sandy, John, (Jackie), Sorensen of American Fork and Jerry, (Julie) of Orem, and a sister Merta Rae Andersen, (Jack) Hansen. Proceeded in death by her parents and her step father Andrew Larsen.
She found great joy in caring for many children through out her life as a baby sitter, day care provider, and a somewhat adopted grandma to many nieces and nephews.
There will be a viewing from 10:00 am to 11:00 am on Thursday March 7th at the Sundberg-Olpin Mortuary 495 South State Street in Orem, Ut followed by a graveside service at the Provo City Cemetery.