In Memory
Don Forest Robertson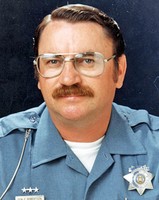 LaDonna Rawlings sent this information on May 1, 2015
Don Forest Robertson, 71, passed away Sunday, July 29, 2012, following a courageous two-year battle with esophageal cancer. Born October 18, 1940, in Reno, Nevada, Don was the fifth child of Hyrum Lester and Edna May Day Robertson. He attended schools in Provo, graduating from Provo High School in 1960, and later continued his education at Weber State College.
Don served an LDS mission in the North Central States. When he returned from his mission Don was drafted into the United States Army and was stationed at Fort Riley, Kansas. He served a tour of duty in Vietnam.
Don married his sweetheart, Grace Divers of Glasgow, Scotland, in the Salt Lake LDS Temple 20 months after meeting her on a train trip from Salt Lake City to Denver. They were blessed with three sons and two daughters. In 1966, Don began his 20-year career as a law-enforcement officer with Provo City Police Department. Don enjoyed the first year of his retirement and then decided to return to the work force and was employed for many years with CDI Media in Salt Lake City.
Don was a storyteller and loved to share jokes; he had a repertoire in the hundreds. He spent countless hours finding gadgets and toys that he could share with his grandchildren, who loved and adored their "Papa." He enjoyed good music and was an avid reader. Some of his favorite topics included science fiction, the Civil War and WWII histories, but he found his greatest joy in studying the scriptures. Don was an observer of the skies and could point out planets and celestial objects. He was a bird watcher and delighted in the birds that visited his yard. Don also was a prolific letter writer; family members near and far benefited from his long-lasting written memories.
Don is survived by his wife, Grace, and their children: Suzanne G. (Christopher) Luebke; Robert B. (Kyla) Robertson; Casey C. (Melissa) Robertson; Amanda Robertson; Logan Robertson. Don is also survived by 11 wonderful grandchildren: Keenan, Brandon, Dallin, Trevor, Hannah, Elena, Olivia, Austin, Grace, Claire and Lily. Servived also by brothers Wayne G. Robertson (Linda) and Eugene Robertson (Melanee).
The family expresses their gratitude to Encompass Hospice for the loving care and medical assistance provided at home by staff, particularly Nancy, Matt and Darla. Also special thanks to Dr. Sean Curzon for his care and support.
Funeral services will be held at 11:00 a.m., Thursday, August 2, 2012 at the Bonneville 13th Ward Chapel, 1498 East 800 South, Provo, Utah. Friends may call at the Berg Mortuary of Provo, 185 East Center Street, Wednesday evening from 6 until 8 and at the church Thursday from 9:30-10:45 a.m. prior to services. Interment, Provo City Cemetery. Condolences may be emailed to info@bergmortuary.com.