In Memory
Kenneth Rex Larsen VIEW PROFILE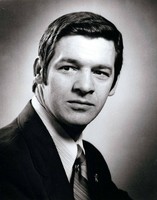 1942-2018
Dr. Kenneth Rex Larsen, PhD, passed away Friday, March 9th, 2018. He was 75 years old.
Ken was born March 20th, 1942 in Provo, Utah to Rex and Mary Larsen. He was an Eagle Scout and a vigil honor member of the Order of the Arrow. He graduated with Honors from BYU with a PhD in zoology, having traveled internationally as a member of the folk dancing program and was widely recognized for his Native American hoop and snake dances.
He received his post doctorate degree in herpetology from Colorado State University where, in 1972, he met Patricia, the woman who would become his wife. Together they were the parents of five children: Stephanie (David), Steven (Maria), Valerie (Wilmer), Bryant (Katherine), and Rebecca; thirteen grandchildren, and two great-grandchildren.
Ken was widely known for his passionate political beliefs and ran for government seats many times, while working as a research scientist at the University of Utah, where he became an adjunct professor.
Ken was a published author, an incredibly adept musician with any instrument he picked up, and had a wide circle of friends from many walks of life. He will be greatly missed by the friends and family he has left behind, and remembered for his incredible intelligence, charisma, generosity, and rugged good looks.
A viewing will be held on Wednesday, March 14, 2018, from 6-8PM and Thursday, one hour prior to the service, at Memorial Redwood Mortuary, 6500 South Redwood Road, West Jordan, Utah. Funeral services will be held Thursday, March 15, 2018, at 10AM at Memorial Redwood Mortuary.
Click here to see Kenneth Rex's last Profile entry.