In Memory
Linda Lee Peterson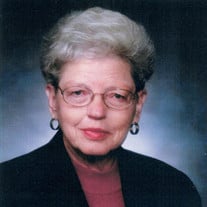 Obituary for Linda Lee Peterson
Linda Lee Peterson, of Orem, Utah, peacefully passed away and returned to the loving arms of our Heavenly Father on June 26, 2021.We feel comfort in knowing that she was welcomed by her mother, father, and other loved ones.

She was born July 23, 1942 in Provo, Utah to Lee Lewis Peterson and Marjorie (Killian) Peterson. She was the oldest of five children and is survived by all of her siblings: Barbara (Harold) Hoyal, Paul (Peggy) Peterson, Russell (Shawna) Peterson, Mark (Anita) Peterson and "sister" Valine Jensen.

Linda attended Provo City Schools and graduated from Provo High in 1960. In high school, she attended Utah Girls State and was the yearbook editor. She graduated from Utah State University with a Master's of Fine Art and began her teaching career in California. Upon returning to Utah, she began teaching art at Farrer Jr. High, and eventually taught for many years at Timpview High School. During this time, she also built a home in the "riverbottoms" of Orem.

She loved and had a great talent for art, but her greatest love was for her students. Many students give credit to her for developing their love of art and education. Some even received Art AP Credit and became Art Sterling Scholars. She later became a teachers' advocate, served as President of Provo Education Association, UEA's Council of Local Presidents and represented Utah as the State Director to the National Education Association.

Linda loved traveling and spending time with her family and friends. She especially loved being with them at the family cabin and her home in St. George. She enjoyed her riding lawnmower and working outside in the yard. She received the Orem Yard Beautification Award and was honored as Orem's Citizen of the Year 2008. Linda enjoyed making chocolates and many benefited from her generous gifts. She loved people and was a devoted friend. She was a faithful member of The Church of Jesus Christ of Latter-day Saints and served in many callings.

Linda will be greatly missed.

A viewing will be held Wednesday, June 30, 2021, from 6:00-8:00 p.m. at the Berg Mortuary of Provo, 185 East Center, Provo, Utah. Another viewing will be held Thursday, July 1, 2021, prior to the funeral services, from 10:00-10:45a.m. at the Hillcrest 8th Ward Building, 1035 So. 800 East in Orem, Utah. The funeral will begin at 11:00 a.m. Interment will be in the Salem City Cemetery, 130 E. 965 So. Condolences may be sent to www.bergmortuary.com.