In Memory
Pat McEwan (West)
This is Linda McEwan Nerdin's twin sister, Patricia McEwan West. Linda McEwan Nerdin died in 2004. Linda Cannon sent me Patricia's obituary.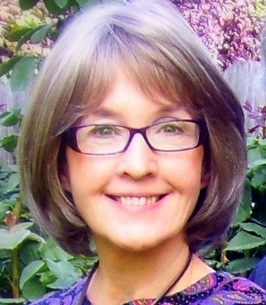 PATRICIA MCEWAN WEST
Patricia McEwan West, age 78 of Orem, passed away peacefully Monday, September 14, 2020. She and her identical twin sister Lynda were born August 25, 1942 in Provo to parents Lester and Grace Lewis McEwan. She was preceded in death by her Parents, Brother David McEwan and twin Sister Lynda Nerdin. She was a kind and loving Wife, Mother, Grandmother, Great Grandmother, Aunt and friend to all of us and will be deeply missed. We all love her so much.

She attended Maesar Elementary, Farrer Jr. High and graduated from Provo High School. She was a Journalist, Writer, Editor of the Provonian School Newspaper and a Performer.

She and her sister and, first Karen McCausland, then Janene Barker formed a trio called "The Chordials" and performed for School, Civic events and on the local radio station KOVO including recording commercials. Pat met her future husband Don in Provo in the fall of 1957. Pat's singing trio of girls, "The Chordials" (Provo High) & Don's singing trio of guys, "The Y's Guys" (BYU), were "discovered" by the same talent scout, who packed them all into the same car for the ride to Salt Lake for their audition with the Talent Agent, who was going to make them all "famous by noon tomorrow." After 3 years of dating, they were married on March 26, 1960 and sealed in the Salt Lake L.D.S. Temple in 1961.

They made their first home in Rockville, Maryland in 1960 where Pat worked in Wash. D.C. as a Secretary for the Army Distaff Foundation. Don was employed by IBM in Bethesda, Md. as a clerk. It was during this time that their first child was born, a daughter Vicki.

In 1963 their little family returned to Provo while Don finished his Degree in Statistics at Brigham Young University, during which time son David was added to their family. After Graduation in 1967, they moved to Boulder Colorado to rejoin IBM as a Sr. Associate Programmer. Third child Lindy was born soon after their arrival. It was here in Boulder that they bought their first home.

In 1970 the West Family returned to Utah to re-join Computer Services at Brigham Young University. At that time, they built their present home in Orem.

Much joy has come from raising her 3 children, Vicki Bills, David West and Lindy Bingham. She has 4 Grandchildren, Brittni Bills Smith (David), Brady Bills (Josephine), Nathan and Michael Bingham and 6 Great-Grandchildren. Her children and grandchildren have shared their own artistic, musical, acting, culinary and computer talents as they have matured.

Pat has served in various church callings throughout her life; Relief Society, Young Women & Primary. Together She and Don served as Dance & Drama Directors, (Road Shows in Boulder & Orem took first place!) She created and painted prop sets, wrote lyrics and was Co-Director. Pat also has served as Bishop's Secretary, Secretary of the BeeHive Pre-School and Ward Birthday Specialist. During her many years of being homebound due to illness, she found ways to reach out to others, as she was very sympathetic to those who were having difficulties. She was techno savvy and reached out to others with phone, email and text using a pc and ipad to communicate. She created custom birthday cards for her family and friends.

Pat's talents include original poetry, art, music, dance, photography, journalism, acoustic guitar and videography. She has blessed and brightened the lives of her family and many others with these talents. She owns a Video Home Business (Cantebury Heights Productions) and has produced many Wedding and Special Event Videos for Couples, Church & Schools. She is a creative seamstress, working with upholstery, clothing, draperies, and countless other items she has sewn, many of her own design & pattern, including many quilts & baby clothes for her grandchildren.

Pat was a 2002 SLC Winter Olympic Torchbearer along with her good friend the late Mike Taylor, chosen as an "Inspirational Pair" to carry the Olympic Flame on the BYU Campus in February of 2002. She and Mike were featured with Ed Yeates on KSL-TV, the Deseret News, The LDS Church News & The Utah Valley Journal.

Pat performed musically together with her husband, in quartets, choirs and in the 1970's Utah Dance Band "Spectra."

She loved visiting Scenic Southern Utah, the "Mormon Miracle Pageant" in Manti, exploring old Ghost Towns. She hiked many trails in Southern Utah and also the Wasatch mountains over the years, with her husband and with their children and extended family.

Pat also loved animals and nursed many stray cats back to health. She bottle fed several batches of puppies. She saved lost horses, cats and even rescued an injured owl.

She enjoyed working on Visual Family History and has single-handedly categorized and transferred our several thousand treasured family slides (which she took over the years) to digital media onto our family server. Her efforts have given our family a priceless gift that we are eternally grateful for!

Pat has a great love and testimony of the Gospel of Jesus Christ. She regularly watched and recorded the BYU Scripture Study programs and Devotionals on BYU-TV. She had quotations she wrote from various LDS Church leaders taped to the walls. She loved studying about her Pioneer Ancestors and had great respect for them. Her Great Great Grandfather David Lewis was a survivor of the Hauns Mill Massacre. She was a member of the Mayflower Society.

This year she celebrated 60 years of marriage, calling it a great adventure of life, learning and love.

Survivors in her immediate family include her husband Donald, children Vicki Bills, David West, Lindy Bingham (Bob), 4 Grandchildren previously mentioned and 6 great grandchildren.

The Family would like to thank the Members of the Orem 1st and 2nd LDS Wards for their continuing support through the 50 years we lived in Orem. Also the Staff at Horizon Home Health & Hospice, particularly Nurses Karen Spear and Janice Southern. In addition, Dr. Jan Badertscher, Dr. Kraig Jenson, the late Dr. Dennis Remington and Orem Rehab & Nursing for their kindness and support. Also her extended family for love, support and fond memories. A gracious Thank You to all who have touched her life.

A visitation will be at Walker Sanderson Funeral Home in Provo, 85 East 300 South on Sunday, September 20, from 6-8 pm. Please observe social distancing and masks. A private funeral for her immediate family and a Live Broadcast of services will be held at Walker Sanderson in Orem and may be viewed at 11:00 a.m., Monday, September 21, 2020 at www.walkersanderson.com, where condolences and memories may also be offered to the family. Burial will be in the Provo City Cemetery following the private funeral.