In Memory
Newton Warnick Andrus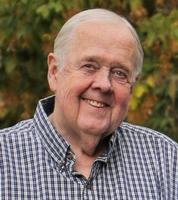 Newt attended Provo High but graduated from BY High. Many PHS 1960 classmates knew him for many years.
1942-2020
Newton Warnick Andrus passed away April 22, 2020, at the age of 77 due to congestive heart failure. Newt was a man who loved to see and understand the world, loved his family, and lived the gospel of Jesus Christ.
Newt was born July 3, 1942, in Provo, Utah, to Albert LaMar and Erma Warnick Andrus. At the time of his birth, his father was serving in the Army in World War II. Newt grew up in Provo and attended Brigham Young Training School, Maeser and Joaquin Elementary Schools, and Farrer Junior High. He was active in the Boy Scouts, earning his Eagle Scout and Silver Explorer awards.
Newt attended Provo High School and Brigham Young High School. He played clarinet in the band, played baseball and football, was a student body officer, and attended Boys State. Following graduation from high school in 1960, Newt enrolled at Brigham Young University. Newt served in the Hawaii Mission for The Church of Jesus Christ of Latter-day Saints from 1961 to 1963. His mission instigated in him a lifelong love of the Hawaiian islands and Polynesian culture. He married Kristine Knudsen, his high-school sweetheart, on June 17, 1964, in the Salt Lake Temple.
Newt graduated from BYU in 1967 with a bachelor's degree in geography. Newt and Kris then moved to North Carolina, where Newt graduated from the University of North Carolina at Chapel Hill with a Master's of Regional Planning. During this time, their first child, Samuel, was born. From 1969 to 1978, the family lived in Oregon, where Newt worked as a city and urban planner for the Port of Portland. During their time in Oregon, Newt also served as a bishop, and the rest of their children were born: Scott "Andy," Amy, and Jonathan. In 1978, the family returned to Provo, where Newt worked with his father-in-law, Wes Knudsen, managing video arcade games, vending machines, and kiddie rides. In 1989, Newt began working at WordPerfect as the purchasing manager and retired in 2003 as Novell's Vice President of Real Estate and Facilities.
Newt served faithfully as a bishop of a family ward and two young single adult wards, a temple worker, a high council member, and a Young Men's leader. Together Newt and Kris served as employment specialist missionaries in Washington D.C., and as facilitators in the Addiction Recovery Program at BYU. Newt also served a family history service mission and loved doing genealogy.
Newt and Kris loved to travel. They took trips all over the world together and enjoyed organizing family trips to Disneyland, Hawaii, the Oregon Coast, Jackson Hole, and Church history sites.
Newt loved his family and often expressed his desire that they remain close. He supported them in all their endeavors, taught them correct principles and service through his example, and helped them explore the world. He had a strong and enduring testimony of his Savior, Jesus Christ. He is loved and will be missed.
He was preceded in death by his parents, Albert LaMar Andrus and Erma Warnick Andrus, and by his wife, Kristine Knudsen Andrus. He is survived by his brother Joseph (Holly) Andrus; his children Samuel (Amy) Andrus, Scott "Andy" (Christian) Andrus, Amy (Brooks) Snow, and Jonathan; and by his grandchildren Olivia, Isabel, Caleb, Benjamin, Henry, William, Dylan, Phineas, and Seth Andrus, and Kolby, Bryson, and Claire Snow.
Due to the current circumstances, there will be a graveside service for immediate family in the Provo City Cemetery on Monday, April 27, 2020, at 10 a.m. A live broadcast of the service may be viewed online at www.walkersanderson.com (click the Live Stream link on the homepage). After the service is over, a recording of the service will be available on Newt's obituary page at the same website. You may also share condolences and memories with the family there. In lieu of flowers, please add memories, stories and photos to Newt's FamilySearch webpage.